This page is maintained by Caoimhghin Ó Croidheáin (Kevin Cryan) who can be contacted through his art website at http://gaelart.net/

Latest update: 31 January 2016


Site content
1/ Early History
2/ Research Centres and References
3/ My Cryan Genealogy
4/ Resources for researchers


5/ Roscommon Herald Articles


6/ The Rootsweb CRYAN-LIST
7/ DNA and Surname distribution maps
8/ General Research Websites
- Irish Family History Foundation (I.F.H.F.)
- Genealogy Research Centres Sligo, Roscommon and Leitrim
- The Registry of Deeds
- The Land Register
- Valuation Office
- National Archives
- National Library
- General Register Office
- 1901 Census
- The Irish Times Archive search
- Irish Newspaper Archive
- Irish History Online
- Ireland's Historical Mapping Archive
- Eneclann
- and more ...

9/ Family History Sites

---
---
My grandparents Liam and Sarah (Kelly) Cryan 1930
Liam and Sarah Cryan
on their wedding day July 1930 in Dublin
and in Saturday Herald.

---
---



The Leitrim Observer 22 August 1908
---

Early History
According to E. MacLysaght (Irish Families) (O)Cryan,Crynes are Co. Roscommon versions of Crean - "O Crean,Crehan - According to MacFirbis, O Crean and O Cregan are synonymous, Crehan being a variant of Crean. In Irish Crean and Crehan are O Croidheain (spelt O Craidhen by the Four Masters) ... These families formed a minor sept of the Cineal Eoghan belonging to Donegal, with a branch in the neighbouring county of Sligo. They are twice mentioned by the four Masters as wealthy merchants, ... in 1506 as of Donegal; in 1572 as of Sligo. The Clongowes manuscript gives them a higher status : the then head of the family was John O Crean of Ballynegare, and inanother place in the manuscript O Crean of Annagh is stated to have been one of the leading families of Co. Sligo in the sixteenth century. According to the "Annals of Loch Ce" the Bishop of Elphin in 1582 was an O Crean, but he was "removed" in 1584. Father Daniel O Crean (d. c. 1616) of Holy Cross, Sligo was Provincial of the Dominican order in a period of intensive persecution."

Books with references to the early Creans:

Olde Sligoe: Aspects of Town and County over 750 Years
[Paperback] John C. McTernan (Author) (Has a foto of Crean tomb in Abbey)

MacDermot of Moylurg: The Story of a Connacht Family
[Hardcover] Dermot MacDermot (Author), Conor MacDermot (Illustrator)

Power, Politics and Land: Early Modern Sligo, 1568-1688
[Hardcover] Mary O'Dowd (Author)

The Irish Dominicans, 1536-1641
[Hardcover] Thomas Flynn (Author)

History of Sligo: County and Town; With Illustrations from Original Drawings and Plans,
Vol. 1 (Classic Reprint) [Paperback] W. G. Wood-Martin (Author)

History of Sligo, County and Town, from the Close of the Revolution of 1688 to the Present Time
[Paperback] W G 1847 Wood-Martin (Author)

The History of Sligo: Town and County
[Paperback] Terence O'Rorke (Author)


---

Cryan Opticians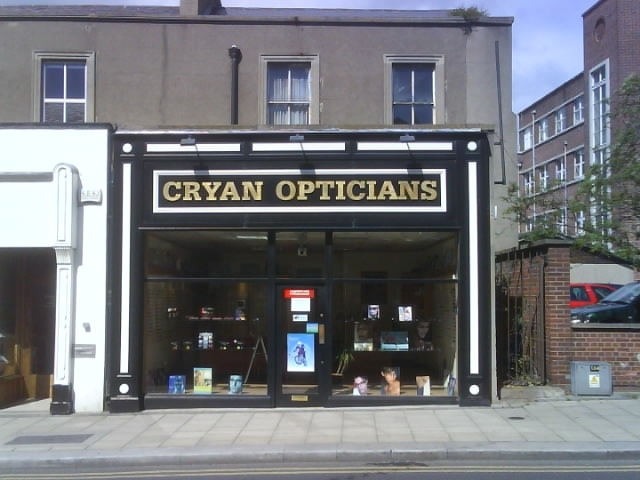 105, Lower George's Street, Dún Laoghaire, Co. Dublin
http://dublin.ratemyarea.com/places/cryan-opticians-5822


---
New Crime, Prisons & Punishment records
Find your criminal ancestors in our new Crime, Prisons & Punishment records

20 February 2013

We've just launched our latest groundbreaking collection: over half a million historical records of criminals and their victims.
Record from the Crime, Prisons & Punishment records on findmypast.co.uk

Today marks the culmination of our two-year project to scan and transcribe original records from The National Archives. We've made the records available online for the first time, and findmypast.co.uk is the only place you can view these fascinating documents.

The Crime, Prisons & Punishment records will be crucial to your research as they contain information about your ancestors that isn't available in other records. They really give you a sense of what kind of person your ancestor was and you could even find a photo of them!

We're launching our collection with records for the period 1817-1931. We'll add new records in the coming months to bring the total to more than 2.5 million records for the period 1770-1934.

Search for Cryan and Crehan produced no results, three for Crean
Last name First name Year of birth Year of event Place of event Record series Record
Crean Eric Hubert 1894 1918 - CRIM9 VIEW
Crean Elizabeth Ann 1849 1887 Lancashire HO140 VIEW
Crean James 1828 1878 Middlesex HO140 VIEW
http://www.findmypast.co.uk/content/news/crime-prisons-punishment
---

NAME: O'CREAN
BLAZON: Argent a wolf rampant sable between three human hearts gules.
CREST: A demi-wolf rampant sable holding between the paws a human heart or.

Crean family motto:


'Cor mundum crea in me Deus'




Psalm 51:10


'

God, create a pure heart in me,




and make my spirit strong again.'
---
---
My granduncle Stephen Cryan (1892-1963) 1920s



Stephen Cryan, at the wheel (Kerry No.3 Brigade I.R.A)
Driving a Ford Model T Touring c1920s

---
---

Sligo Abbey Abbey Street Sligo
Founded in 1252 or 1253 for the Dominicans by Maurice Fitzgerald, 2nd Baron of Offaly, who was also founder of the town. Having escaped the ravages suffered by the now destroyed Sligo Castle in the 13th and 14th centuries, the Friary was accidentally burned in 1414, but was rebuilt two years later by Friar Bryan MacDonagh with assistance from (the other) Pope John XXIII.

In a recess in the north wall of the nave is the O'Crean tomb dated to 1506, bearing panels in front with the Crucifixion in the centre, the Virgin Mary and St. John on either side; other figures are probably to be identified as St. Dominic (in friar's robes), St. Katherine (with remains of a wheel), St. Peter (with keys), St. Michael (with shield and raised sword), and there are other unidentified figures.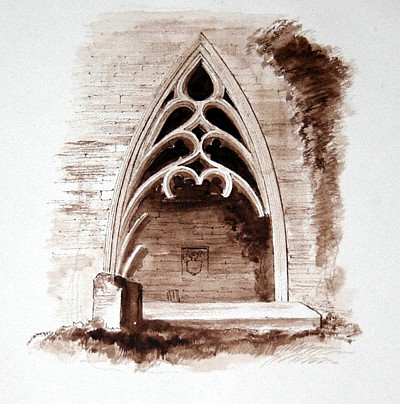 O'Crean Tomb, Sligo Friary
Choir Of Sligo Abbey. Drawn For Colonel Cooper from an
original sketch and partly finished from a photograph July 1882.
Copyright Sligo County Library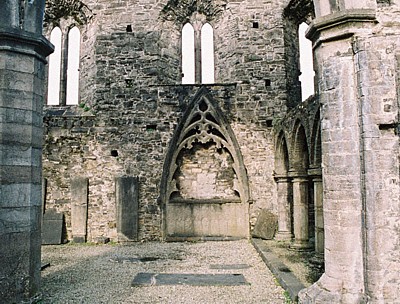 Modern Image of O'Crean Tomb
Sligo Friary, County Sligo.
Copyright Sligo County Library


Research Centres
If you would like to find out more about your own family write to either The Sligo Heritage and Genealogical Centre, Stephens St., Sligo or The Roscommon Heritage and Genealogical Centre, Strokestown, Co. Roscommon.

For a good general book on Irish genealogical resources see John Grenham's 3rd edition Tracing your Irish Ancestors, (Dublin, Gill & Macmillan 1992, Baltimore, Genealogical Publishing Co., 1993)

Homepages of the designated Genealogy Research Centre for Counties Sligo, Roscommon and Leitrim.

http://www.sligoroots.com/

http://www.roscommonroots.com/
---
Crean's Castle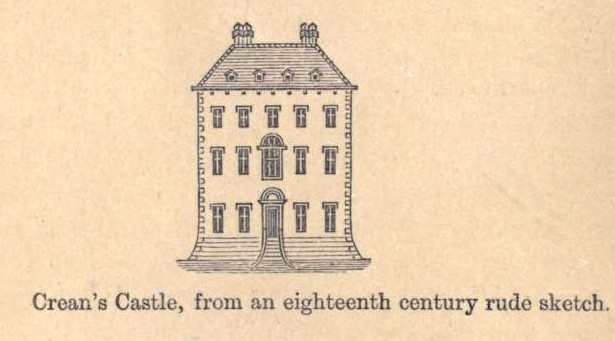 "John O'Crean occupied the old family 'castle' in Castle Street
in the 1680s where he had a tan yard, as he traded in hides." [Now demolished]
https://archive.org/stream/historyofsligoco02wooduoft#page/38/mode/2up


The drawing is from Wood Martin's book, A History of Sligo Vol II, He gives no source or date for it, so the origin of the drawing remains unknown.

"1630, Francis Taafe, was born at Crean's Castle, Sligo, his son Nicolas Taafe, was also born at Crean's Castle in 1677. (Dictionary of National Biography, 1885-1900, Volume 55). (also Memoirs of the Family of Taaffe)."

Map showing Crean's castle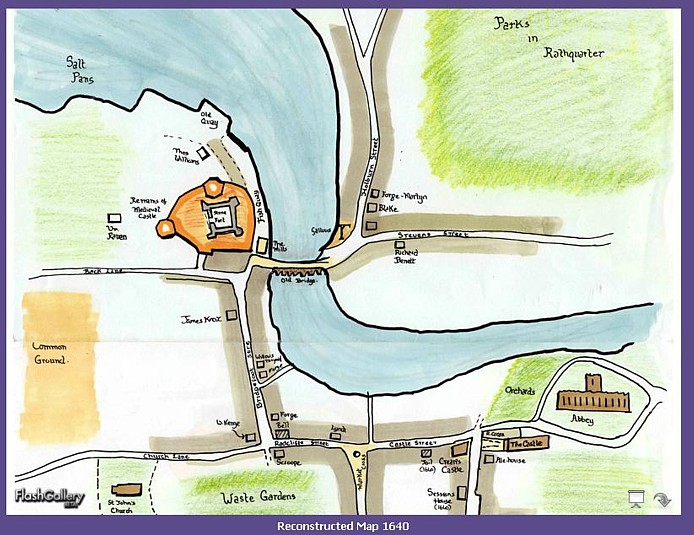 http://streetsofsligo.com/index.html
"The map showing Crean's castle was reconstructed by myself, from a variety of sources. The castle was clearly situated on the southern side of Castle Street, opposite the contemporary Jones' or Gethin's castle. No archaeological trace of it has every been found, despite some modest recent excavations to the rear of Foleys pub. The southern side of Castle Street was most likely extensively rebuilt from about 1820 onwards, obliterating any traces of earlier buildings."

"Notes I made in preparation for Section 12 of the Irish Historic Towns Atlas, Sligo, (F. Gallagher and ML Legge), 2011. This will give you a clear idea of the chronology of Crean's Castle from contemporary sources." (Fiona Gallagher) See below:






Crean's Castle, Castle St, S.. Fortified town house,

1600 - erected by the Crean merchant family sometime before 1600.
1630, Francis Taafe, born at Crean's Castle, Sligo, his son Nicolas Taafe, was also born at Crean's Castle in 1677. (Dictionary of National Biography, 1885-1900, Volume 55). (also Memoirs of the Family of Taaffe).
1641, held out under siege during rebellion. (Wood Marin, ii, 39).
1645, mentioned in letter from Cpt Gerald Dillon to Sir Ulick Burke, stating that it had held out against the Parliamentarians. (Wood Martin, ii, 76).
1682, John Crean, Castle, (Strafford rental). Also Peter Darsey, 'house and castle,'in Castle St.
1687, 'a castle in possession of Peter D'arcy'. (Strafford Rental).Also castle or house now in possession of John Greene. (Strafford Rental).[May have been third fortified house].
1708. 'Peter Darcy's Castle house, now in possession of John Gamble. (RD. 1/331/309). 1739, 'Ruins of Crane's Castle'. (Henry).
1762, 'The plot of ground whereon the old castle, commonly called Crean's castle stood...". (RD 262/61/166492).
1772, castle, Castle St, occupied by William Blest. (Cess Books)[This may be Jones' Castle, contemporarily considered as being on Castle Street, rather than Teeling St].
1798. Crean's Castle pulled down between 1798 and 1807. (Sligo Chronicle, 15-03-1863). Illustration of Castle, (Wood – Martin, ii.36)
(Fiona Gallagher 2013)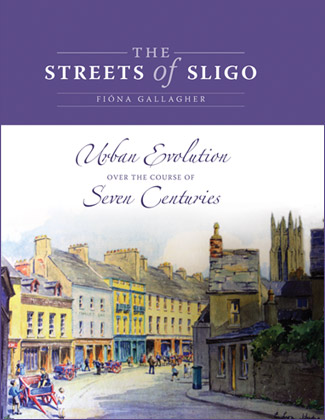 The Streets of Sligo by Fiona Gallagher

Almost a decade in preparation this book is an opportunity to explore the process of urban growth and evolution since the foundation of Sligo by the Normans seven centuries ago. With over 47 chapters, one for each street in the hostoric core, the book is abundantly illustrated with maps, sketches and photographs. Also included are lists of 19th century traders, and an analysis of the population of the borough since 1600.
http://streetsofsligo.com/index.html
---


Old schoolhouse, Croghan Co Roscommon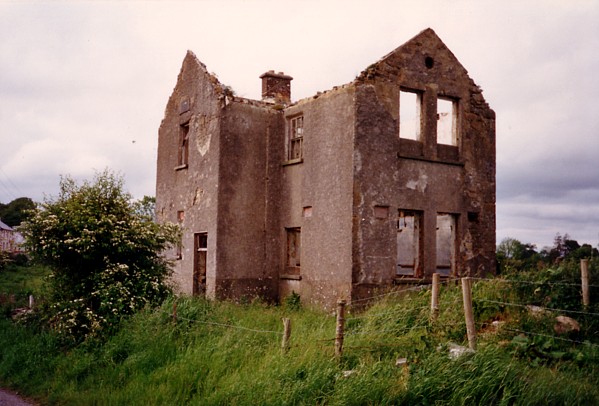 Where John Cryan (1830s-1905), my great great grandfather, taught
Demolished 1990s



---
---
Cryan's pub, Carrick-on-Shannon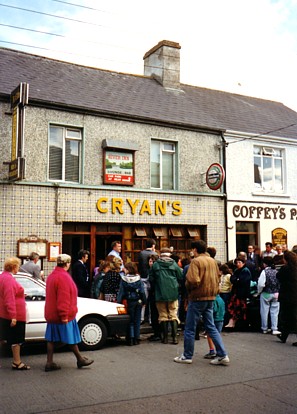 ---
My Cryan Genealogy
My great great grandfather, John Cryan, married Margaret Dolan in Boyle, Co. Roscommon in 1858 and spent his life in Croghan, about 5 miles south of Boyle, working as a National School teacher (where he is still remembered as Master Cryan) until his death in 1906. From his age on his Death Certificate I believe he was born around 1833 and a reference to a family who had a son, John, at that time has been found. This was a couple, John Cryan and Catherine Drury, who married in 1829 in Croghan and had three sons John (b.1833 in Boyle), James (b.1842 in Boyle) and Patrick (b.1831 in Croghan). I do not know what happened to Patrick and James. Does this information sound familiar to you? Have you ever heard talk of a Master Cryan in your family? Maybe these names have been passed down through the generations as they have in my family. Please let me know at caoimhghin@yahoo.com


---

Crean's pub, Oldcastle, Co. Meath
(Sligo Creans)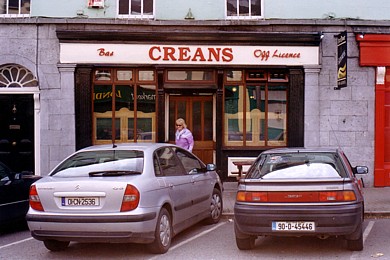 ---


Crean's Shop, Townsend Street, Dublin
(Not sure if these were North Creans (Sligo- Ó Croidheáin)
or South Creans (Kerry - Ó Cuirin)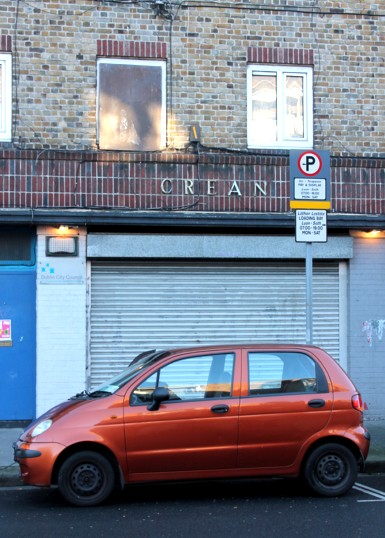 ---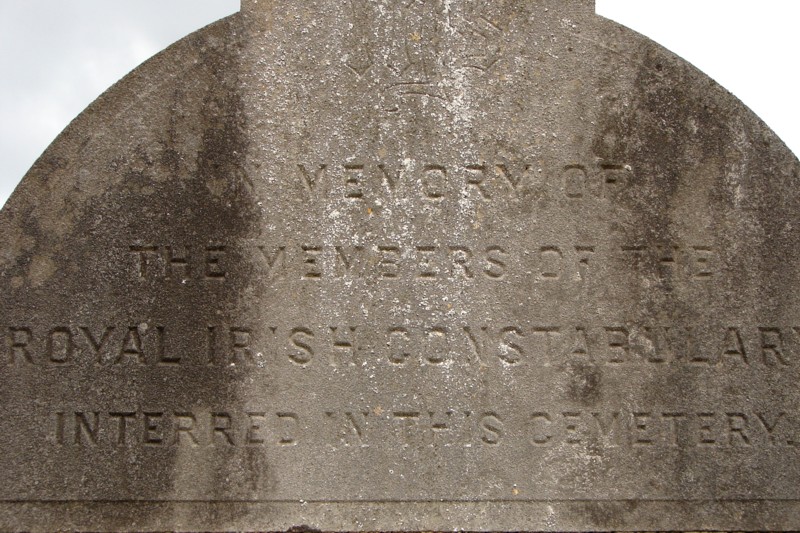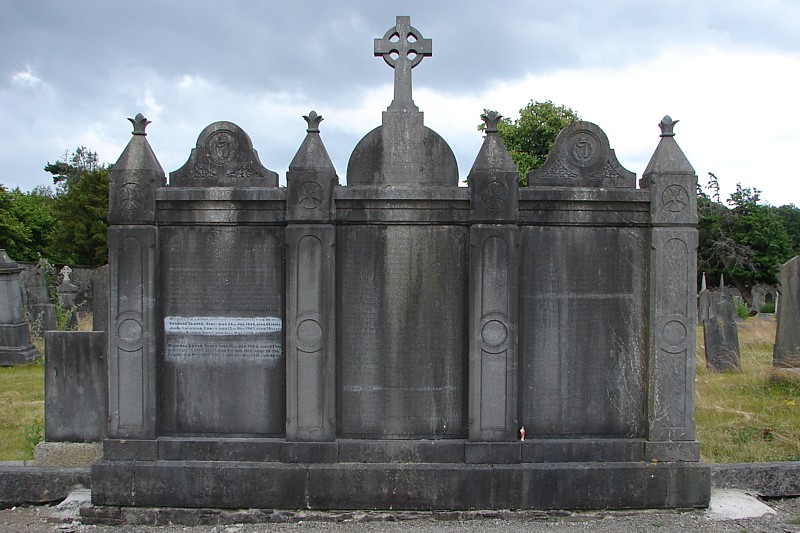 Glasnevin Cemetery, Dublin 2010

---

Resources for researchers

The following list contains files, pictures and information that has been gathered from many different sources, including Internet websites and lists, the National Library, the National Archives, the Registry of Births, Marriages and Deaths, Registry of Deeds, Military Archives, Roscommon and Kerry County Libraries etc.

Crean / Cryan Stone Memorials from 1500s-1900s
Gravestones and Memorials


Registry of Deeds Henrietta Street, Dublin
Précis of Memorials of Deeds relating to Crean and Cryan
of Cos Sligo and Roscommon


Roman Catholic Registers for Boyle and Kilbryan (1792) Co Roscommon
Entries for Cryan and variants 1793 - 1833 of Baptisms, Burials and Marriages


Cryan et al pictures/drawings 1
Cryan et al pictures/drawings 2
Images from The Roscommon Herald

Mormon: Cryans and variants Part 1
Mormon: Cryans and variants Part 2

CRYAN DEATHS 1864-1983
From the Registry of Births, Deaths and Marriages

Links to Cryan (and name variants) pages

Carrowreagh Cryans - Patricia Buker



Irish Times Cryan clippings Page 1

Irish Times Cryan clippings Page 2

Croghan Throne pictures


Roscommon Herald Articles


The following notes are all the Cryan and variant references culled so far from microfilmed Roscommon Heralds in the National Library in Dublin:

Roscommon Herald Cryan references

Collected articles containing Cryan (and variants) references:

Roscommon Herald Articles 1 - 85

Roscommon Herald Articles 86 - 132
---

John Cryan's pub, Boyle, Co Roscommon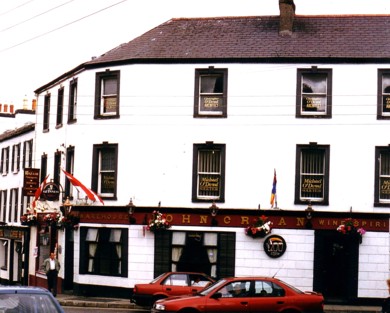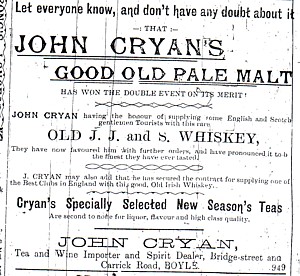 The Roscommon Herald 28-12-1895



---
---

My Great Great Grandmother Eliza Shanahan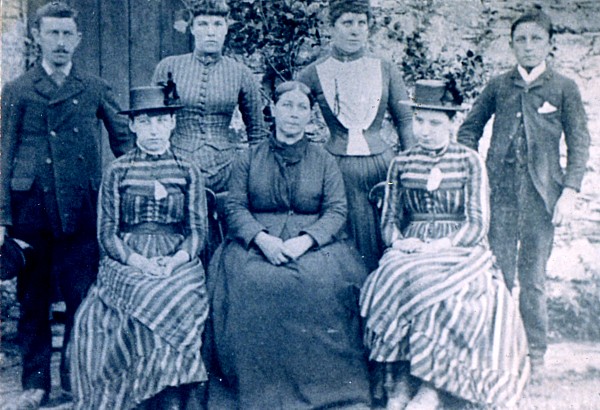 My Great Great Grandmother Eliza Shanahan (nee Sullivan, centre, front row) and her family,
Valentia Island, Co Kerry c1890s

Standing - Pat/ Annie/ Johanna / Mick.
Sitting - Maria/ Eliza (Their mother, nee Sullivan) / Nell


---
---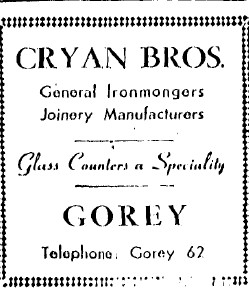 The Irish Times 17 Feb 1951
---
The Rootsweb CRYAN-LIST


The CRYAN-LIST on Rootsweb was set up in early 1998 and has been a great source of information for Cryan researchers. For those who are newcomers to the List and would like to find out the contents of previous emails, the following CRYAN-LIST files contain 95% of all the emails posted since Leslie Poche set up the List.

Remember the CRYAN-LIST contains much information on many variants of the O Croidheain surname: Croidheain, Craigen/Creighan, Crawn/Craun, Crane, Crean, Craen, Creen-e, Cre(a)g(h)an, Cre(a)han, Cro(u)ghan, Crain-e, MacCroghan/McCrohan, Crowen, Cryan-s, Crion, Creyon, Krine, Crine, Cryne, Crehen, Craheen

Copy the files into a Word document and use the Search and Find command to find the surname variant, townland, or any other keywords you are researching.



All the above Rootsweb Cryan-List emails from 1998 to the present can be found in the archive here:
http://archiver.rootsweb.ancestry.com/th/index/CRYAN/

or searched here:
http://archiver.rootsweb.ancestry.com/cgi-bin/search?path=CRYAN

To join the Cryan List click on the following link:
http://lists.rootsweb.com/index/surname/c/cryan.html#CRYAN


---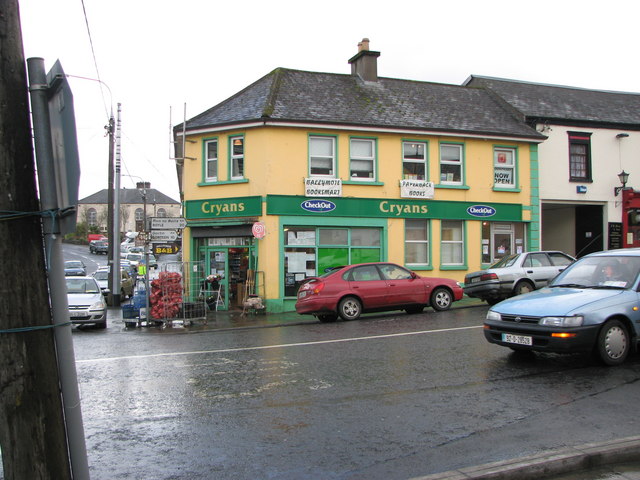 Cryans general store, Ballymote, Co Sligo
(Ballymote Cryans, a corner shop selling just about everything)
https://commons.wikimedia.org/wiki/File:Cryans_general_store,_Ballymote_-_geograph.org.uk_-_1588361.jpg

---
---


My Great Grandaunt, Bridget Cryan (b 1882) (first from left)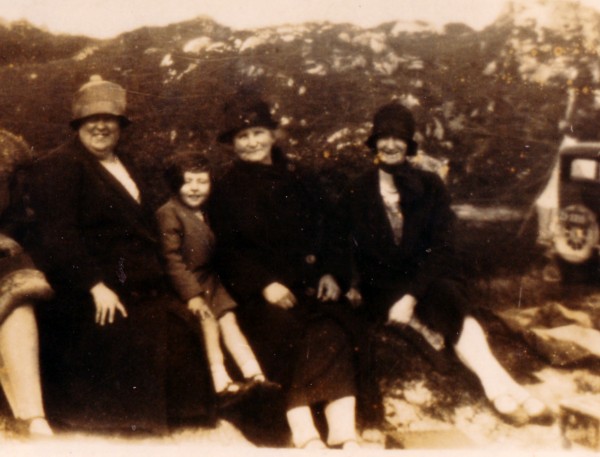 My Great Grandaunt, My Father's First Cousin,
My Father's Paternal Grandmother, and My Grandaunt c1920s

Bridget Cryan (b 1882) / Joan O Neil / Johanna Cryan (Shanahan) / Girlie (Cryan) O Neill.

---
---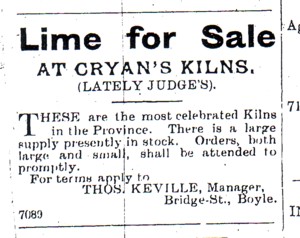 The Roscommon Herald 19-4-1902
---

'Genetic Homelands'



In Ireland Surnames can still be found concentrated in the County from which they originate. In this manner one can examine the individual Surname distribution maps on the Irish Origenes website and pinpoint a 'Genetic Homeland.' The Genetic Homeland is the very small area, usually within a 5km (or 3 mile radius) where one's ancestors lived for hundreds if not thousands of years. It is the area where one's ancestors left their mark in the place names of that area and in the DNA of its current inhabitants. Since modern science can pinpoint a Genetic Homeland it can also be used to confirm it by DNA testing individuals from the pinpointed area.
http://www.irishorigenes.com/

Not had a DNA test? Then click on the Family Tree DNA
http://www.familytreedna.com/default.aspx


Surname distribution map for Cryan: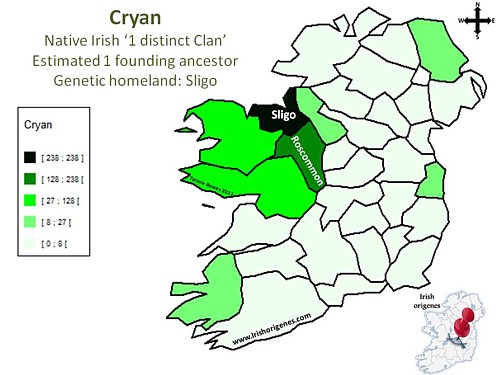 Surname distribution map for Crean: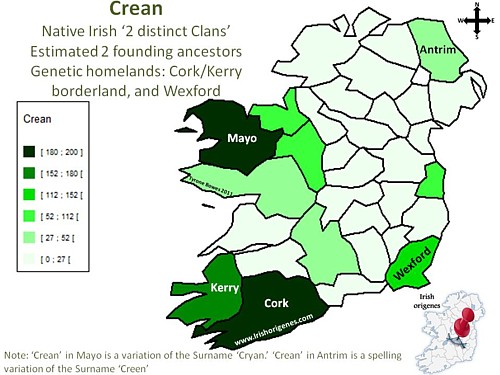 Surname distribution map for Crehan: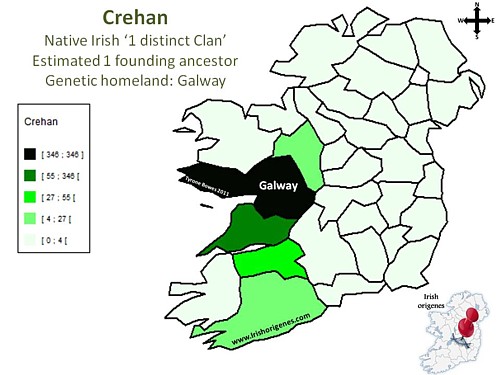 ---
---
My paternal grandmother with my great grandmother out for a stroll c1930s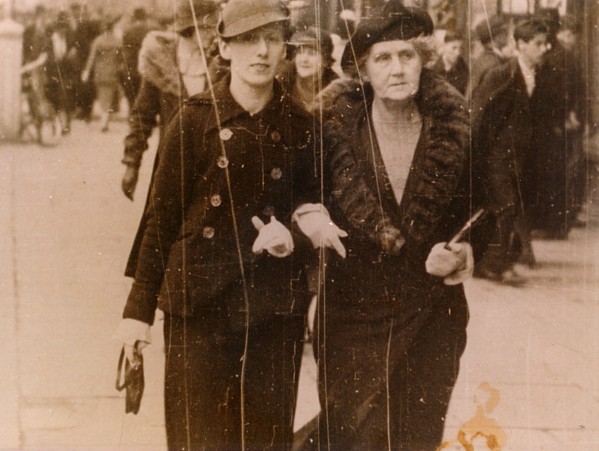 Sarah (Kelly) Cryan / Jane( Carty) Kelly (Sarah's mother). 1930s

---
---


General Research Websites
Genealogy Research Centres
Homepages of the designated Genealogy Research Centre for Counties Sligo, Roscommon and Leitrim.

http://www.sligoroots.com/

http://www.roscommonroots.com/
---
Ballymote, Co Sligo, Ireland (from Paul Cryan)
M. Cryan's shop c.1938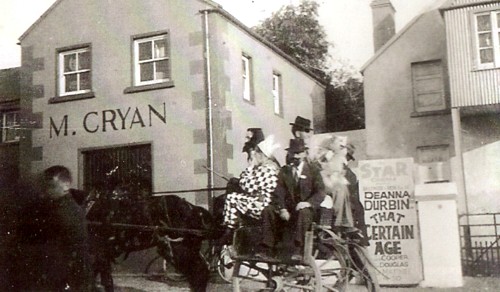 The shop M.Cryan's would have been my grandfather's brother Matts shop in Ballymote Town . The Cinema is next door and I vaguely remember that was owned by his brother Bartholomew (Batty). My father was born in Cryan's confectionery shop next to McDonagh's pub in O'Connell street, now called Doddy's. I believe this is Matt's shop in the photo which would have been in Teeling street.

'That Certain Age' (1938)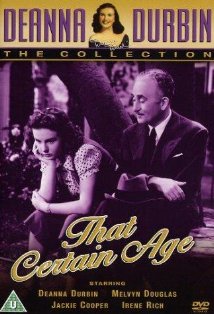 http://www.imdb.com/title/tt0030854/

Invoice for works 1918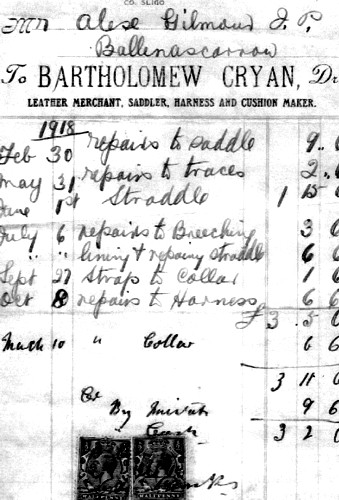 Invoice for works carried out by Cryan's harness makers. My great grand father Michael had a harness/saddler business in Ballymote Town. This was carried on by the oldest brother Patrick when he died (no idea what happened to Patrick) and I can only guess that Bartholomew (Batty) kept it going, although he became and auctioneer/land agent. The harness/saddler business was in New Town Street which I believe is now O'Connell street.
Contact Paul for more info or suggestions: paulpatrickcryan@googlemail.com


---
Frances Cryan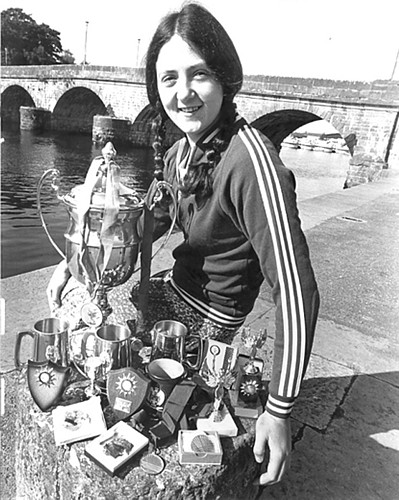 Frances Cryan hails from Carrick-on-Shannon and joined her local rowing club in 1974. Through her rowing talents, she brought many honours to her country, county, town and club.

Frances Cryan

was five times Irish Ladies Single Sculls Champion from the years 1976-1980 inclusive. Frances became the first woman to row for Ireland in the Olympic Games, when she competed in the 1980 games held in Moscow, and she came seventh in the overall classification table for the single sculls event.

http://www.askaboutireland.ie/learning-zone/primary-students/looking-at-places/leitrim/people-and-places-in-leit/sports-stars-of-leitrim/frances-cryan/

---

My grand uncle Joseph Cryan with his wife Olive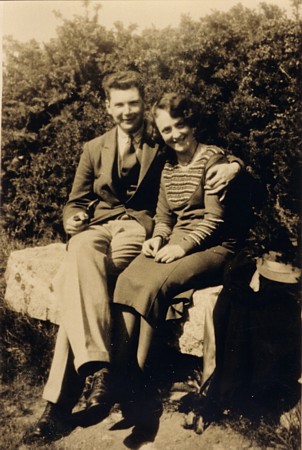 Joseph Cryan / Olive (Foster) Cryan 1930s


---
---


Cryan Family Genealogy Forum
http://genforum.genealogy.com/cryan/

Crean Family Genealogy Forum
http://genforum.genealogy.com/crean/

The Registry of Deeds
This archive has come to form an invaluable resource for genealogical research. It is a unique reference library for the study of the social and economic history of Ireland. The memorials mirror all important dealings with property in Ireland, especially in the 18th and 19th centuries prior to the opening of the Land Registry.

http://www.landregistry.ie/index.asp?locID=140&docID=-1


---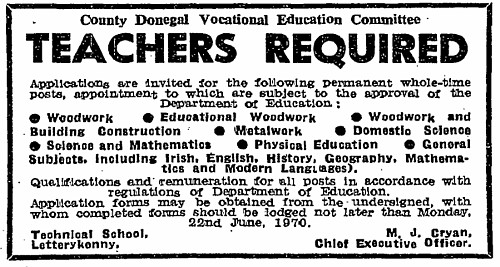 The Irish Times June 1970
---
Irish Family History Foundation (I.F.H.F.)

Ireland's Largest Family Records Database

Over 19 million records online

This website contains a unique set of Irish family history records including Birth, Death, Marriage and Gravestone records the majority of which are only available online on this website and cannot be found online elsewhere.

This website was created by the Irish Family History Foundation (I.F.H.F.), an all Ireland not-for-profit organization, that is co-ordinating the creation of a database of Irish genealogical sources to assist those who wish to trace their Irish ancestry.

Its county genealogy centre members are based in local communities and work with local volunteers, historical societies, clergy, local authorities, county libraries and government agencies to develop and preserve a database of genealogical records for their county. By using this website you are supporting that work and the communities from which your ancestors originated.

http://www.rootsireland.ie/
---
---


My grandfathers brothers and brother-in-law 1920s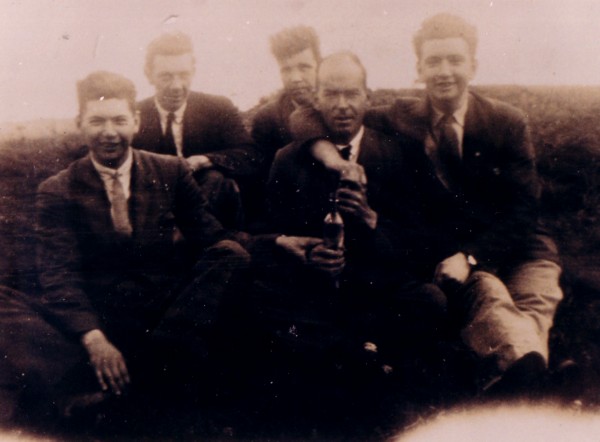 (left to right) Joseph Cryan / Mr Gilsenan (family friend) / Stephen Cryan / John O Neill / Pat Cryan. Circa 1920s

---
---

The Land Register
The register of titles operated by the Land Registry is divided into 26 parts, each representing an administrative county. The land in each county is subdivided into folios, one for each individual ownership or title. Each folio is numbered sequentially within the county division.

http://www.landregistry.ie/index.asp?locID=18&docID=-1


---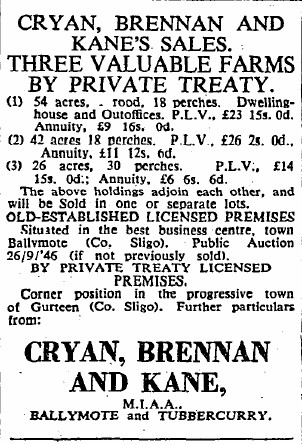 The Irish Times 9 September 1946
---

Valuation Office
Our public office team provides inspection facilities for members of the public to view all current and archive rating records and maps. Our archives contain the original books and surveys carried out in the 1840s, books and maps of Griffith's Valuations in the 1850s, and documentation showing the subsequent revisions up to the current position. The archive is unique in that it can relate people to a particular property. In addition, the property location is outlined on a valuation map. The Valuation maps are also archived so it may be possible to locate the exact position of a house or property of a particular family back to C.1850.

http://www.valoff.ie/Research.htm


---
Robert Cryan (1827-1881)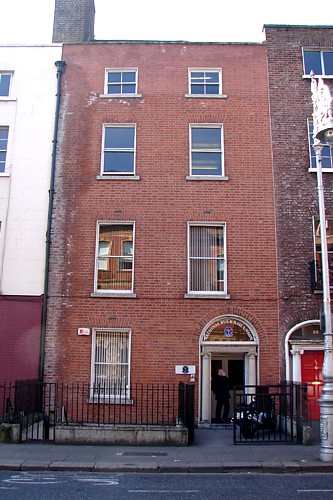 54 Parnell Square, Dublin
Robert Cryan (1827-1881) was an Irish medical doctor, professor of Anatomy and Physiology at the Catholic University in Dublin, Ireland, as well as a lecturer on anatomy and Physiology at the Carmichael School of Medicine in Dublin.

Grave of Dr Robert Cryan and other members of the family

Dr Robert Cryan's family tree

Robert Cryan lived at 54 Rutland Square, (now called Parnell Square, Dublin, Ireland, and was licensed to practice medicine in 1847 by the Royal College of Surgeons.
See: http://en.wikipedia.org/wiki/Robert_Cryan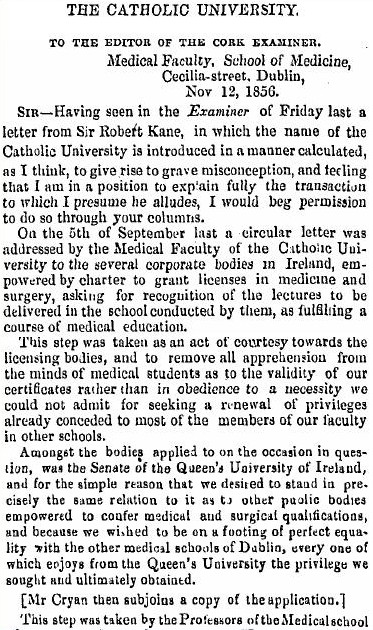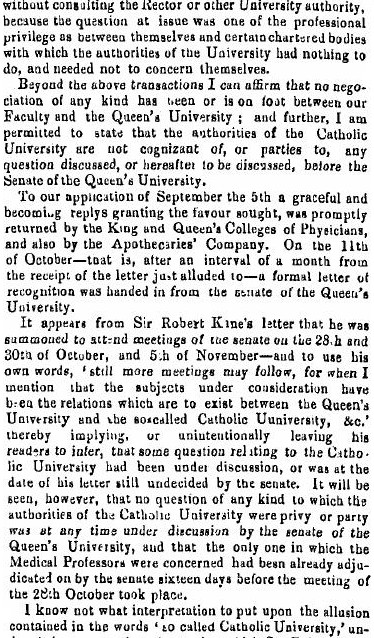 The Nation 22 November 1856


---
---

My grand uncle Pat Cryan, Garda H.Q. in the Phoenix Park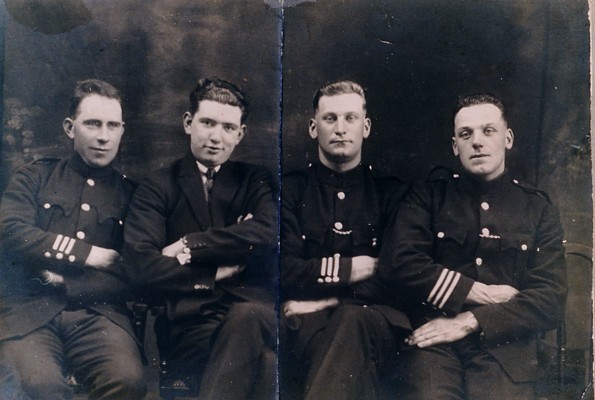 Unknown / Pat Cryan (1905-1982) / Unknown / Unknown / 1920s


---
---


National Archives
The National Archives holds a wide variety of records, many of which are relevant to Irish genealogy and local history. Archives acquired from private sources. Some of the most frequently consulted archives in our Reading Room include the following record collections:
Census 1901
Census 1911
Chancery pleadings
Chief Secretary's Office Registered Papers
Church of Ireland parish registers
Convict Reference Files
Dáil Éireann records
Departmental records
Famine Relief Commission records relating to the Famine
Ferguson manuscripts
Genealogical abstracts (Betham, Crosslé, Tenison Groves, Grove-White and Thrift)
General Prisons Board
Incumbered and Landed Estates Court rentals
Irish Record Commission calendars
Lodge's manuscripts
National School applications, registers and files (pre-1922)
Office of Public Works
Official Papers
Ordnance Survey
Outrage Reports
Probate records
Quit Rent Office
Rebellion Papers
Society of Friends Famine Papers
State of the Country Papers
Trade Union archives
Valuation Office and Boundary Survey records
Will books and grant books

http://www.nationalarchives.ie/


---
Cryan's Hotel -Carrick on Shannon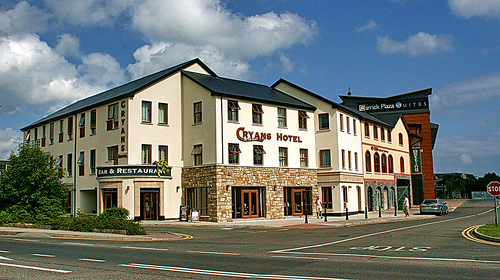 Photo- Martina (77)
'Cryan's Hotel opened in Carrick on Shannon in August 2007. Although the family have been in business in Carrick on Shannon for over 50 years. Having a long established tradition of great hospitality good food and great craic in their famous traditional Irish bar. Cryan's hotel is located right beside the River Shannon and Carrick On Shannon Town Centre.'
http://www.cryanshotel.com/
---


National Library
Every year thousands of people visit the National Library to carry out family history research. Library material used by family history researchers includes the microfilms of Catholic parish registers, copies of the important nineteenth century land valuations (the Tithe Applotment Books and Griffith's Valuation), trade and social directories, estate records and newspapers.

http://www.nli.ie/en/family-history-introduction.aspx

---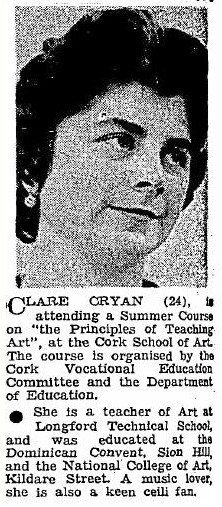 The Irish Press 22 July 1960
---


General Register Office
Oifig An Ard-Chláraitheora (General Register Office Research Room)
Joyce House, 8/11 Lombard Street East , Dublin , 2.
Our Research Room is open from Monday to Friday, (excluding public holidays) from 9.30 a.m. to 4.30 p.m. for the purpose of searching the indexes to birth, death and marriage records and obtaining photocopies / certificates. Joyce House is situated near the junction of Pearse Street/Westland Row.

http://www.groireland.ie/research.htm


1901 Census
All the 1901 census records for Counties Leitrim, Roscommon, Mayo & Sligo are now entered in the 1901 census database on LEITRIM-ROSCOMMON Genealogy Web Site. You can search on-line here:
http://www.leitrim-roscommon.com/1901census/

1911 Census

The household returns and ancillary records for the censuses of Ireland of 1901 and 1911, which are in the custody of the National Archives of Ireland, represent an extremely valuable part of the Irish national heritage. All thirty-two counties for 1911 are now available on this site.
http://www.census.nationalarchives.ie/
---
---

My father (Kevin Cryan) and siblings 1950s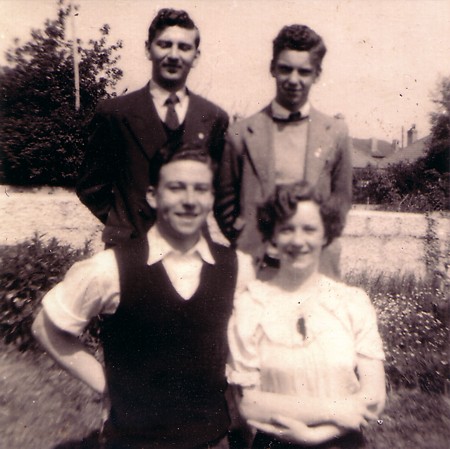 Back row Des Cryan / Kevin Cryan/
Front row Lauri Cryan / Sally Cryan 1950s


---
---

Mormons
Free Family History, Family Tree, and Genealogy Records and Resources from Around the World

http://www.familysearch.org/eng/default.asp

The Irish Times Archive search
Archive Search contains both Digital and Text Archives. The Digital archive contains exact reproductions of all articles published by the Irish Times from 1859 onwards, while the Text archive contains material published on ireland.com from 1996 onwards.

http://www.irishtimes.com/search/archive.html
---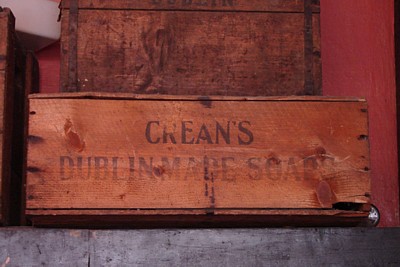 'Crean's Dublin Made Soap'
Tigh Neachtain Pub, Galway (2009)
---

Irish Newspaper Archive
The world's largest online database of Irish Newspapers, Search, retrieve and view Ireland's past exactly as it was originally published. With many of Ireland's leading national, regional and out of print titles, this website is a wonderful resource for novice historians and academic institutes.

http://www.irishnewsarchive.com/


TCH Archives
Ireland's largest free news online archive with over 750,000+ articles indexed since 1997

http://archives.tcm.ie/index.asp

including:
Sligo Weekender
Roscommon Herald
Western People


Irish Townland Maps
'For those involved with Irish genealogy this is the most important map collection ever published. Surveyed between 1829 and 1843, our Irish Townland Maps are packed with detail and are of superb quality and craftsmanship.'
---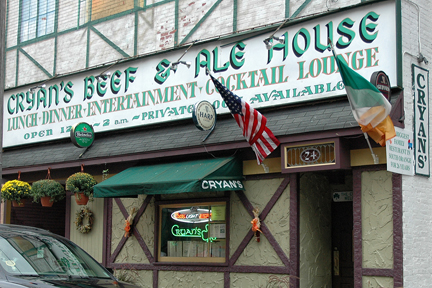 Cryan's Ale House and Grill
1270 Route 28, North Branch, New Jersey, USA
http://www.riverviewweb.com/cryans/
---

Roscommon County Council
Burial Ground Survey of Catholic parishes in Co. Roscommon

http://www.roscommoncoco.ie/burialgrounds/search.aspx


Roscommon Historical Research
Roscommon History & Heritage. 'Roscommon is a fascinating county, steeped in history, a huge amount of which has been written down. This website is an attempt at showcasing the beautiful county of Roscommon and its rich heritage, through the medium of its books, documents and ephemera. If you are interested in Co. Roscommon local history, house history or family history, (or if you are interested in media studies, material culture or the history of art & design), then please come in.'

http://www.roscommonhistory.ie/


Sligo Heritage
Website host, Joe Mc Gowan is a local historian and native of Mullaghmore, Co. Sligo. 'My interest in heritage, folklore and history has led to the writing and publishing of several books on the subject. These pages have been created to give the visitor an understanding, not just of Sligo's history, and heritage, but also a taste of current events.'

http://www.sligoheritage.com/


The Sligo Champion Newspaper online

http://www.sligochampion.ie/

The Roscommon Herald online

http://www.roscommonherald.com/

Irish History Online
Irish History Online is an authoritative guide (in progress) to what has been written about Irish history from earliest times to the present. It was established in association with the Royal Historical Society Bibliography of British and Irish History (of which it is now the Irish component) and London's Past Online.

http://irishhistoryonline.ie/


Ireland's Historical Mapping Archive
Between 1829 and 1842 Ordnance Survey Ireland completed the first ever large-scale survey of an entire country. Acclaimed for their accuracy, these maps are regarded by cartographers as amongst the finest ever produced. As the national mapping archive service for Ireland, OSi has captured this and later mapping data in a digitised format. Through this website you can view and download this data or place an order for delivery by post.

http://www.irishhistoricmaps.ie/historic/


Eneclann
Eneclann is a Trinity College Dublin campus company providing a range of professional services in the historical, heritage, archive and records management sectors. Starting from a core business of historical research consultancy, Eneclann now has three distinct areas of business operations:
• Historical Research – House Histories and Genealogical Research
• E- Publishing & Digitisation
• Records & Archive Management

http://eneclann.ie/


Family History Sites

Rootsweb

Irish Family History Foundation (Heritage Centres)

Cyndi's List of Genealogy Sites on the Internet

GRENHAM'S Irish Recordfinder

Irish Roots Magazine

Roscommon/Sligo Homepage

County Roscommon Family History Society

Lyle's Home Page

Cregan & Variants Home Page

---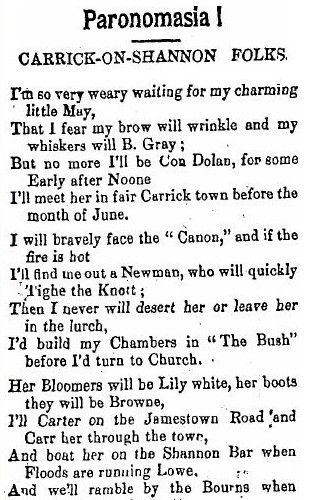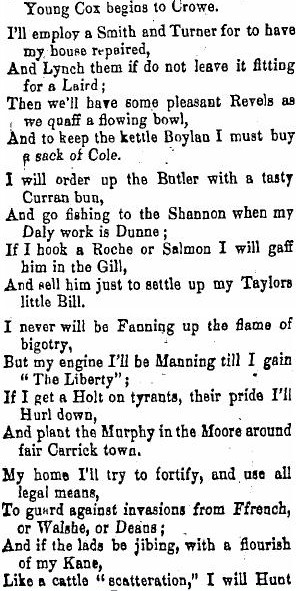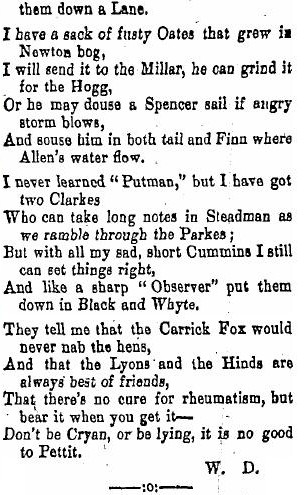 The Leitrim Observer 25 April 1908
---